Barbecue Pork Ribs!
Barbecue is about as American you can get besides baseball and gun ownership rights. Delicious country style ribs made of Pork, slow cooked for hours and hours till the meat slides off the bone.

Here's is a video of the process that making traditional ribs takes: Traditional BBQ.
How to make Barbecue Pork Ribs

Combine the brown sugar, chili powder, 1 tablespoon salt, 1 teaspoon black pepper, the oregano, cayenne, garlic powder and onion powder in a small bowl and rub the mixture on both sides of the ribs. Cover and refrigerate 1 hour or overnight.


Preheat the oven to 250 degrees F. In a roasting pan, combine the broth and vinegar. Add the ribs to the pan. Cover with foil and tightly seal. Bake 2 hours. Remove the ribs from the pan and place them on a platter. Pour the liquid from the pan into a saucepan and bring to a boil. Lower the heat to a simmer and cook until reduced by half. Add the barbecue sauce.


Preheat an outdoor grill to medium high. Put the ribs on the grill and cook about 5 minutes on each side, until browned and slightly charred. Cut the ribs between the bones and toss them in a large bowl with the sauce. Serve hot.


Delicious Barbecue Pork Ribs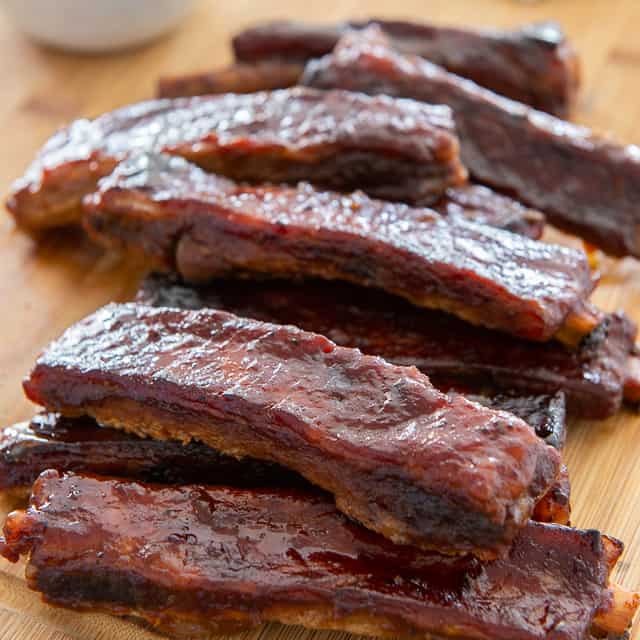 Ingredients:
1/4 cup brown sugar
2 tablespoons chili powder
Kosher salt and freshly ground black pepper
1 teaspoon dried oregano
1/2 teaspoon cayenne pepper
1/2 teaspoon garlic powder
1/2 teaspoon onion powder
2 racks baby back ribs
1 cup chicken broth
2 tablespoons apple cider vinegar
1 cup barbecue sauce